Care and Treatment
CRIT's model of care provides a unique approach to rehabilitation. We tailor all our services to each child and each family.

This customization is based on a plan of care approved by an attending physician.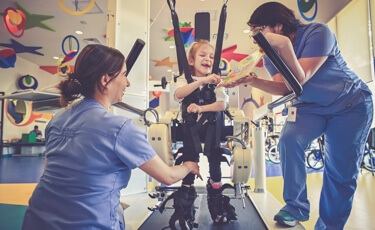 Our team includes physicians who specialize in physical medicine and rehabilitation, physical, occupational and speech therapists, social workers, counselors, recreational therapists, assistive technology specialists, genetic counselors, physicians' assistants, as well as a team of experienced patient care professionals.

PILLARS
OF OUR MODEL OF CARE
Physical
Comprehensive rehabilitation with the support of physicians and therapists who provide care for the daily physical challenges of life.
Psychological
Care to look after the mental wellness of patients and their families.
Social
Focus on social inclusion of the children and their families.
Spiritual
A religious multi-denominational program, which promotes and strengthens social values.

CONDITIONS
CRIT offers services to children with disabilities from 0 to 18 years of age, as well as their families. The center's medical equipment and infrastructure are ideally suited to meet the following conditions:
Moderate to severe cerebral palsy
Brain injuries
Neuromuscular diseases
Spinal cord injuries
Amputees and people with skeletal disorders
Congenital and genetic diseases
Developmental delays
If we don't provide care for the condition you are looking for, contact us and we will refer you to a hospital or center which may be able to provide support.

THERAPIES
Physical therapy
Occupational therapy
Speech therapy
Aquatic therapy
Sensory integration
Assistive technology
Neurodevelopmental therapy
Augmentative and alternative communication
Training for the use of motorized wheelchairs

Autism evaluation

EQUIPMENT
Lokomat for gait training
Pablo and Armeo Systems
Thera system:
Virtual reality
Multi-sensory room

MEDICAL TEAM
All of our specialists are committed to CRIT children and their families. We offer the following specialized services:
Physical Medicine and Rehabilitation Physicians
Nutritionists
Physical Therapists
Occupational Therapists
Speech Language Pathologists
Licensed Professional Counselor
Social Workers
Recreational Therapist
Assistive Technology Specialists
Medical Assistants
Genetic Counselors
Customer Service Team
Volunteers
FACILITIES
AND TECHNOLOGY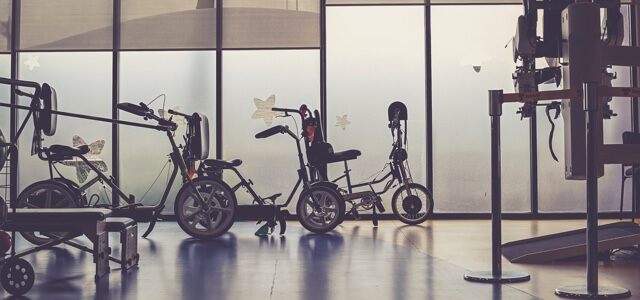 CRIT provides its services in a state-of-the-art medical facility. The center was built with the sole purpose of providing comprehensive care to children and their families. We have over 45,000 square feet , full of architecture and colorful design where an atmosphere of joy, love and care is nurtured, which makes our children and their families thrive.
Our facilities include:
A Multi-Sensory Room: the environment of this room can be adjusted to stimulate or calm the children down with the use of lights, sounds, textures, smells and movements.
The House ("La Casita"): designed as a practice room for daily life activities, this therapy gym has a bathroom, kitchen, bedroom, couches, and school desks that allow  children to practice all of their functional tasks.
Pablo and Armeo: two cutting-edge machines, designed to support coordination, balance, fine motor skills and limb strength.
Therapy Gym: This multidisciplinary gym has more than 100 pieces of equipment, including: mats, parallel bars, adapted tricycles, thera system and stairs designed to maximize the functional independence of each child in a safe and therapeutic environment.
Lokomat Walking Training Robot: This robotic-assisted therapy takes advantage of neuroplasticity and effectively increases the potential for successful rehabilitation.
Aquatic Therapy: we have two therapeutic pools, each with a different temperature. They are used to increase strength, range of motion, resistance, and help improve functional movement.
Private Speech Therapy Rooms: Here we provide therapy for feeding, swallowing, cognitive training, vital stimulation and language acquisition.
Assistive Technology Room: Here users train with manual and motorized wheelchairs, gait trainers, walkers, adapted tricycles, augmented communication devices, and environmental control units. In addition, orthoses are manufactured to support the needs of the children.
Recreational Therapy
Educational Rooms
SOCIAL
INTEGRATION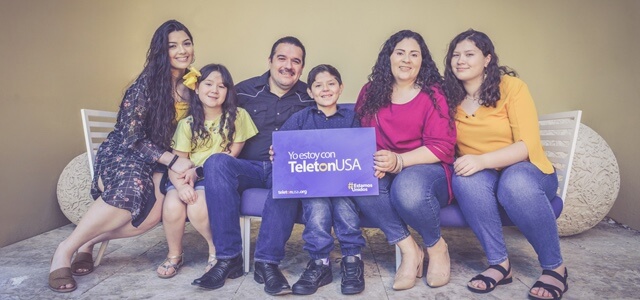 Recreational Therapy at CRIT provides children with the opportunity to grow and improve their social skills through group sessions with other CRIT members. Recreational therapy also helps patients find social opportunities outside of CRIT. It teaches them skills related to team play, sports, communication with others,  and offers them the opportunity to interact with other people.
Recreational Therapy:
Recreational therapy focuses on caring for each individual in a holistic manner, through recreational and leisure activities. We focus on developing physical, emotional, social, cognitive, and coping skills by engaging in new activities that the patient loves. Activities may include arts and crafts, STEM projects, music, dancing, painting, swimming,  hiking, cooking, sensory exploration, imaginative play, computer/video games, community outings, reading, and so many more as we discover new activities every day!
Buddy Program:
The Buddy Program provides our patients with the opportunity to connect with a mentor who does not  have a disability, in order to participate in activities and attend events together. Our buddies include siblings, friends of patients, children of staff, college students, and other friends and family members from our community. Together, we attend events at CRIT and throughout  San Antonio. Here,patients and buddies have fun meeting new people, socializing, and trying new things. Email buddyprogram@critusa.org for more information!
Outings:
The Recreational Therapy department offers outings to patients as needed. This helps patients and their families, discover possibilities of what our community has to offer. These outings provide patients a fun and safe activity while learning to navigate throughout multiple public settings which may not be available at our CRIT facility.  Outings may include: bowling alleys, restaurants, amusement parks, museums, sports games, Morgan's Wonderland, and more! If you have a place in mind or know of other locations for potential outings, please reach out to buddyprogram@critusa.org!
Sibshops:
Sibshops are an evidence-based, national program led by the Department of Social Work, for children who have a sibling with a disability. The Sibshops are a fun peer support group, held during the summer months for siblings ages 6-12. These groups help support and include the siblings, as they often feel left out. Each program lasts 4 hours, and 10-15 siblings usually participate.