CRIT
The Children's Rehabilitation Institute TeletonUSA (CRIT) offers comprehensive family-centered rehabilitation.

Its objective is to support the practical autonomy of children in their daily life activities, as well as to facilitate their social and educational inclusion. CRIT is part of the largest private rehabilitation program for children in the world, which has served more than 110,000 people in both the United States and Mexico.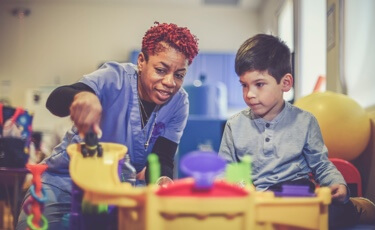 After identifying the need in the United States for an approach to care like ours, TeletonUSA Foundation was established to raise funds for the construction and operation of the Children's Rehabilitation Institute TeletonUSA (CRIT).
Inspired by the success of Fundación Teletón México's rehabilitation institutes, CRIT opened its doors in San Antonio, Texas in 2014. We serve families in San Antonio and throughout the United States. Due to the success of this first institute, TeletonUSA is looking to build more CRITs in the United States.

Mission
To celebrate the dignity of every individual serving children with neurological, muscular, and skeletal disabilities and their families, through an integrated and state-of-the-art rehabilitation program that empowers patients to reach their fullest potential with inclusion to society.
Vision
We strive to be the world's best pediatric rehabilitation system, within the context of promoting human values and a culture that encourages the social inclusion of people with disabilities.
Values
– We love who we serve
– We are faithful to our mission
– We forge a culture of justice, rights, and inclusion
– We are responsible and live our work with passion
CRIT BOARD OF TRUSTEES & EXECUTIVE BOARD
Each year, CRIT reaches hundreds of children with disabilities, providing services that promote their full development and participation in society.
Address:
10839 Quarry Park, San Antonio, TX, 78233
+1 844-206-4512